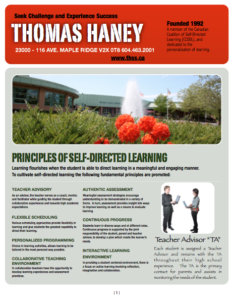 PRINCIPLES OF SELF-DIRECTED LEARNING
Learning flourishes when the student is able to direct learning in a meaningful and engaging manner.
TEACHER ADVISORY
As an advisor, the teacher serves as a coach, mentor, and facilitator while guiding the student through collaborative experiences and towards high academic expectations.
FLEXIBLE SCHEDULING
Various scheduling approaches provide flexibility in learning and give students the greatest capability to direct their learning.
PERSONALIZED PROGRAMMING
Choice in learning activities, allows learning to be tailored in the most personal way possible.
COLLABORATIVE TEACHING ENVIRONMENT
In collaboration teachers have the opportunity to develop learning experiences and assessment practices.
AUTHENTIC ASSESSMENT
Meaningful assessment strategies encourage understanding to be demonstrated in a variety of forms. In turn, assessment provides insight into ways to improve learning as well as a means to evaluate learning.
CONTINUOUS PROGRESS
Students learn in diverse ways and at different rates. Continuous progress is supported by the joint responsibility of the student, parent and teacher advisor, to develop a plan which meets the learner's needs.
INTERACTIVE LEARNING ENVIRONMENT
In providing a student-centered environment, there is a focus on active learning involving reflection, imagination and collaboration.
BLENDED LEARNING
Thomas Haney's flexible model allows us the perfect environment for blended learning. Blended learning is education that combines the richness of the personal face-to-face school experience with digital and on-line learning opportunities.
Our students can increasingly access learning resources and lessons 24/7. The option to learn about quadratic equations from the privacy of your own home at your own time is now a real option. The face-to-face lessons and interactions are not replaced, but enhanced by such opportunities. Students can work ahead, or spend more time on a concept, or access more individualized help as necessary. Technology also provides our students opportunities to produce meaningful work for authentic audiences. Write a Blog, make a Prezi, post a video to YouTube, design a campaign. Thomas Haney has gained an international reputation for its innovations in this regard. We believe that schools must be more flexible and personal to meet the needs of our students, and to prepare them for life in the 21st Century.
Life Skills our students graduate with:
Confidence Diplomacy
Interpersonal Skills
Time Management Innovation
Self-knowledge/awareness
Responsibility/accountability
Global Awareness
Post-Secondary Preparedness