Garibaldi Secondary School was the second High School established in Maple Ridge. GSS is located on the boundary between the territories of the Katzie and Kwantlen First Nations. East Maple Ridge is broken into many communities, often named for pioneer families or First Nations communities. The communities of East Haney, Ruskin, Whonnock, Webster's Corners, Thornhill, and Allco each have a unique story. These stories included significant influences from Polynesian, Chinese, Japanese, Finnish, British and Dutch settlers. The Maple Ridge Museum supports outstanding resources about these communities and their unique cultural history. https://mapleridgemuseum.org
Garibaldi secondary school is named after Garibaldi Provincial Park which was named after Giuseppe Garibaldi. Giuseppe Garibaldi is recognized as being a founding father to the countries of Italy, Uruguay and San Marino. In 1865 the British service ship HMS Plumper was selling the west coast of British Columbia completing a mapping survey. The First Mate, Lieutenant Mayne identified the mountain known as the Nch'kay̓ by the Squamish and Lil'wat Nations and gave it the colonial name Mount Garibaldi.

To the Squamish and Lil'wat Nations, Nch'kay̓ is considered sacred as it is an important part of their history. In their oral history a story, at a time of conflict a great flood rose to cover their land. As the conflict continued the flood increased to the point where only Nch'kay̓ peaked over the water. The ancient people headed for Nch'kay̓ and latched their canoes to the mountain with a rope made from woven cedar bark in order to prevent being swept away. At that time the conflict settled as the ancients were close together. The water dissipated due to the harmony in the village and the canoes. As the water left the valley opened up releasing their homes in the Valley. The story is a brilliant metaphor for togetherness and harmony. Some thing we probably share with our students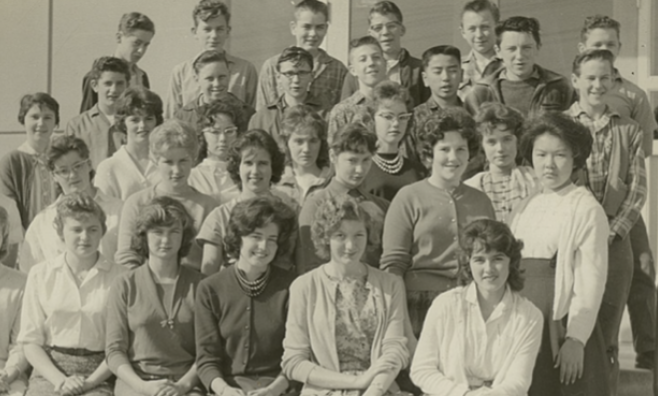 The first Grade 11- 12 students are pictures above ( 1965 I think). Since this time we have many diverse graduates including: several world champion athletes, academy award winners, current philanthropist, YouTube stars, notable authors and many graduates who are parents or grandparent to our current students.  I have added more to the GSS Website: https://secondary.sd42.ca/gss/community-history/ 
Notable Graduates include:
Debbie Brill – World Champion, World Record Holder, High Jumper
Phillip Borsos – Genie Award Winning Director, Academy Award Nominee
Cindy Devine – Canadian National and World Downhill Champion – Inducted into World Mountain Bike Hall of Fame World Champion. She was the FIRST female World Champion in 1990.
Kim Eagles – Olympic and and Commonwealth Games Athlete – pistol shooting
Gary Folka – Award winning actor
Greg Hart – World record holder in tree climbing
Stirling Hart – Canadian record holder and a World record holder in tree climbing and Springboard chop
Brian Malfesi – National Canoe / Kayak Team. Multiple National Championship. Represented Canada at the Senior World Cup Events and Olympic Games Tokyo 2021
Tyler O'Neill – Canadian National Baseball team, and Major League Baseball (St Louis Cardinals)
Jonathan Poh – Author 2020 CBC Nonfiction Award Winner
Linus Sebastian – YouTube personality, presenter, and producer focusing on computer tech
Lance Uggla – International Business Leaders – Philanthropist
Cam Waldbauer – Academy Award nominee for Best Visual Effects – X-Men: Days of Future Past.