May 29 Parent Portal Message
 We hope that you are doing well! As some students are planning to return to Westview, we wanted to make sure they have an idea as to what June 1-4, 2020 will look like. Students will be following this protocol for the remaining days in June 2020.
Student Entry
Cones outside for students to stand by to have physical distancing while waiting for entrance into the building. Please ensure to remind all students to keep social distancing and COVID-19 precautions.
Students enter from 8:30-8:45 at Main Entrance, in a staggered fashion

Two lines will be formed.

East door lineup will go out toward the staff parking lot
West door lineup will go out toward Wicklund Ave

Information recorded upon student entry – name, grade, location in the building where they will be working, teachers/classes needing assistance, resources needed (ASW, CCW, counselling, etc)

Record information and share with staff daily
Document when students leave the building as well (via main entrance)

Wash hands in main bathrooms and proceed to assigned learning spaces
Students will exit the building at 11:10 to return home.
Other Details
Hand sanitizer and Lysol wipes will be available in each learning space
Staff will come to students in the learning spaces, students will remain in their desks
Students should bring their own devices into the school.

Device sign out of the library or entrance to MPR (if needed – we have loaned out a large number of devices to students).

Admin will pull students one at a time from library/MPR to open and empty their locker and return library books
Students will bring any needed food and drink for the morning – water fountains and food will not be available at school.
Traffic Flow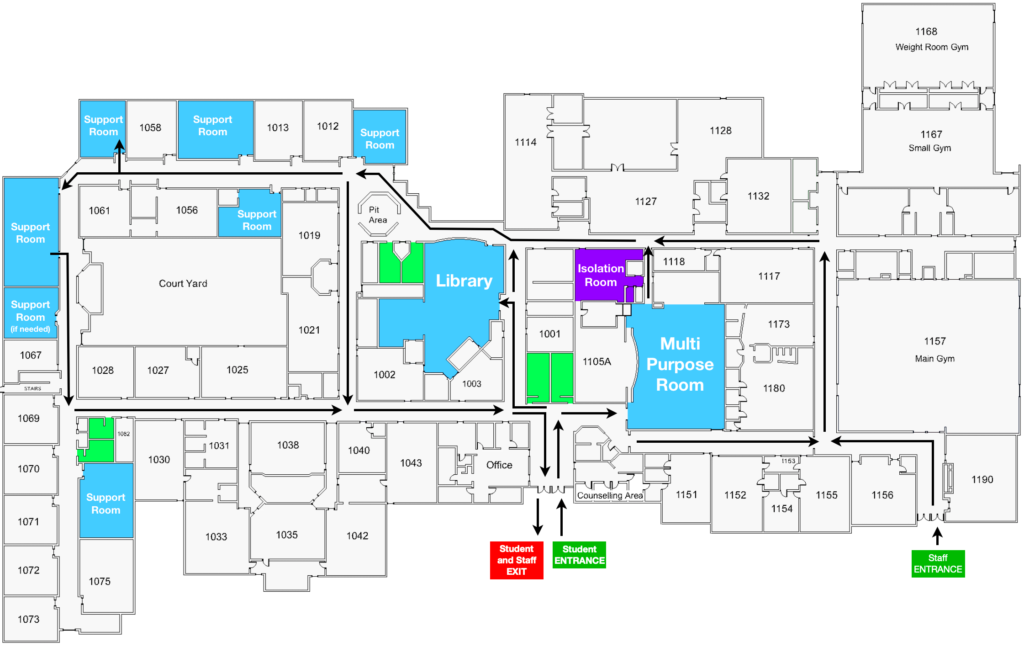 Timing of the day
8:30-8:45 – Gradual entry and check in at main entrance for students
8:30-11:10 – Students working in controlled spaces

If a student leaves before 11:10, we will remind them not to linger on school property socializing with peers.

11:10-11:20 – Students leave using hallway flow on map above and leave through the front entrance
Thanks for your support and enjoy the weekend!
WSS Admin